Tagish Lake Kennel News
December 2019
Happy Holidays everyone! Sorry for the belated news but we have been so busy here at the kennel. Quickly the winter is passing by and soon it will be the race season.
Fall was a busy time after our summer tour business had ended. There was so much to do to get ready for the winter. Ed and I didn't have help at our kennel in the summer so we had a lot of small chores that needed to be tended to. Dog houses fixed and painted, the garden all ready for the winter, chickens slaughtered and put in the freezer, building projects, Ed went moose hunting and I cut about 8 cords of wood to keep us warm for the winter. Luckily, we had some help in the fall and got ahead of our long list!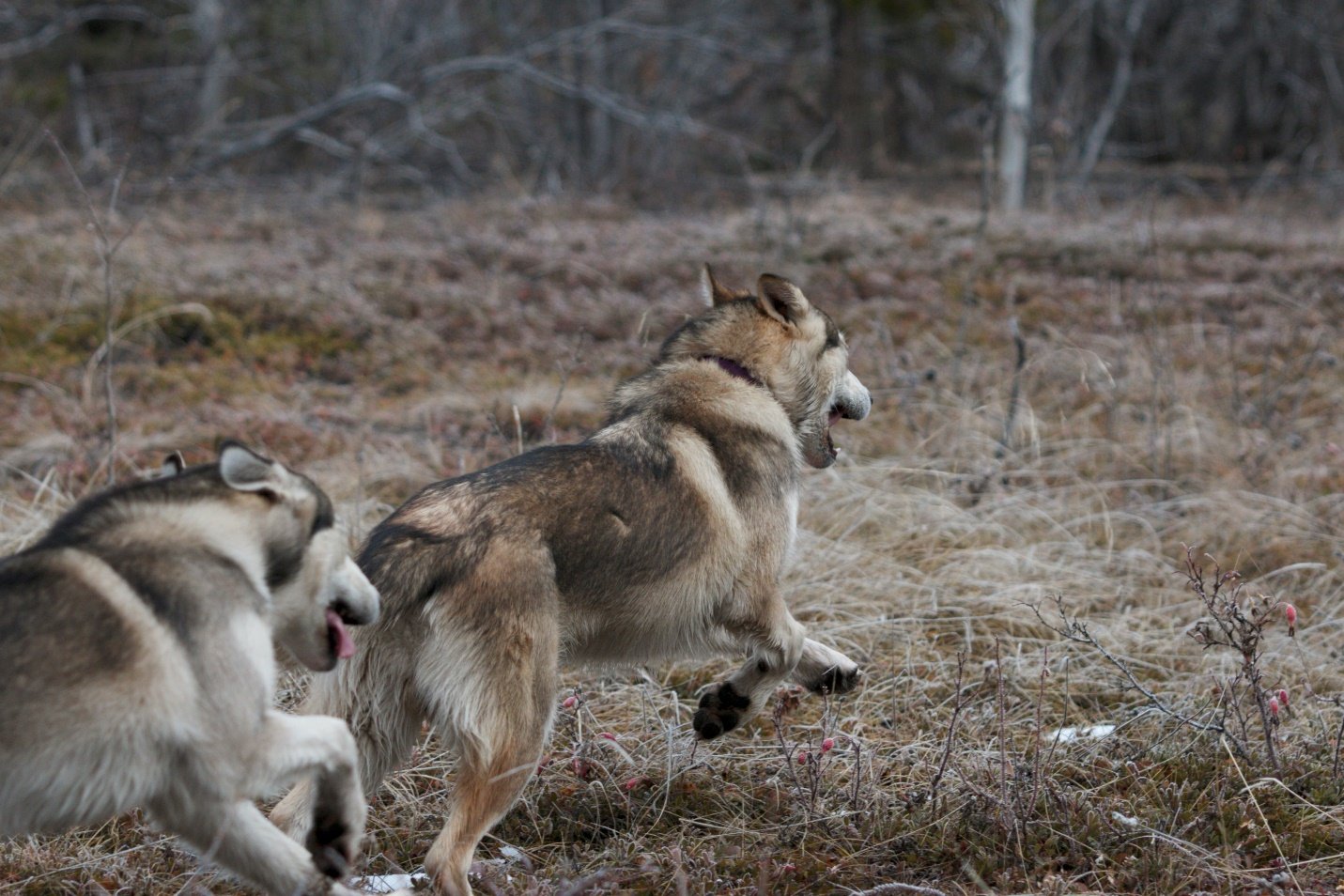 Of course, fall training was in full swing and we thought we had died and gone to heaven once we had a huge snowfall early in the season. Sadly, Mother Nature was just fooling us and it all melted and we were back on the dirt again. We mile the dogs up slowly with an ATV in the fall. The dogs are trained into groups, we had the retired racers with the yearlings, Ed's dynamic two-year-old team with a few older race dogs, my group that was training for the Iditarod and Yukon Quest and then a large puppy group. The pups from the summer season enjoyed loose runs and Chia's litter refused to stay in the large loose run pen that Ed and Jerry built. Now these pups are running in harness and learning how to become a sled dog. They still enjoy loose runs as well and go for a loose run daily then a couple times a week in harness.
Winter has been very slow in coming to Tagish Lake Kennel. We had a couple good snowfalls then the temperatures rose and we had rain! Rain is so depressing for a dog musher! The trails were so slick and even the yard was tough to stay upright in. Luckily where we train our long miles on the South Canol highway there was lots of snow and we could train with a sled there. By mid-November we had a couple camps set up there and we started our weekly camping trips.
Madeline Rubida has joined Tagish Lake Kennel for the winter and is helping us train our teams. Madeline will be running the Copper Basin 300 and the Yukon Quest 300 as well. She is a real asset to the kennel and a real pleasure to work with. We have spent many miles on the runners on the South Canol getting ready for the winter's adventures.
Some trips have proven more exciting than others. The last 180 mile camping trip we were just at the bottom of a long downhill when Madeline stopped abruptly by dragging her snowhook into the trail. Up ahead was a giant cow moose with a baby who was deciding whether she needed to come and stomp our teams or head the other directions. After a stand off she decided to head the other way and we breathed a sigh of relief! At one camping spot we were booting our teams when I heard Madeline yelling help. Janice the little rascal had chewed through the gangline and the front 11 dogs were gathered around Madeline. I quickly ran up to help her pull them back! Wow that was a tense moment!
As well as a racing kennel we offer tours. In the winter our yearling group along with the retired racers primarily do the tours. Christmas is a busy season and all the teams ran this Christmas season. We work with Southern Lakes Resort which is located a few kilometers away from us and met some amazing people from all around the world.
Thank you so much for your support this year, we cannot make it to the start line without your help. We are starting to prep for our upcoming races, the Copper Basin 300 and the Yukon Quest. This is many hours of work and much packaging of dog food, cut up meat, booties and personal supplies.
Follow our journey on Facebook and our first race of the season will be the Copper Basin 300 which starts on January 11th. They have an excellent website and you can follow online during the race.
Sending mush love to you all!
Happy Trails!
Michelle, Ed & Tagish Lake Kennels
https://tagishlakekennel.com/wp-content/uploads/dogs.jpg
954
1431
Sayan Mukherjee
https://tagishlakekennel.com/wp-content/uploads/michele1-1.jpg
Sayan Mukherjee
2020-01-08 19:45:41
2021-11-07 19:22:55
Tagish Lake Kennel News December 2019